Banana Cinnamon Dark Chocolate Brigadeiro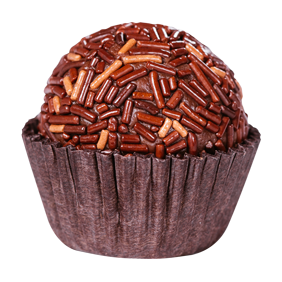 Banana Cinnamon Dark Chocolate Brigadeiro
$ 29.00 - Sold Out
Inspired by the traditional Brazilian dessert
, Bananinha, this banana cinnamon brigadeiro is made for banana lovers! 
It's made from a comforting mix of dark chocolate, cinnamon, and real banana, and then coated in a mix of real chocolate sprinkles.
...
Read More
INGREDIENTS: Sweetened organic condensed milk, Semisweet chocolate, butter, cocoa powder. May contain nuts and fruits.
SHELF LIFE - 2 weeks at room temperature. Our products are best if consumed immediately as they do not include preservatives, artificial flavors or compounds. For best results, store confections at or just below room temperature in an odor-free environment. If Refrigerated, they will last longer. You can even freeze them up to 6 months
---
- Made from local, organic ingredients
- Gluten-free and preservative-free
- Beautifully gift-packed
- Hand made to order in San Francisco
AMAZING! I saw the brigadeiro on Instagram and knew I had to try them. Reached out on Instagram to see if they were still taking orders with everything going on. They got back to me super quickly and were super helpful. Naturally, I ordered both kinds because I couldn't decide on one. I was not disappointed at all. I made myself wait until I had an actual meal to eat one and that in itself was a tough feat. But what was even more tough was not eating ALL of them once I tried the first one. Amazing service. Amazing taste. Amazingly satisfied customer. I will definitely be coming back.

- Jen T.
San Mateo, CA
I love Tinyb's brigadeiros! It is actually great to be able to taste a bit of Brazil in the Bay Area and share the experience with my friends and beloved ones! I have also ordered once as a holidays gift to my customers and they loved it. The variety of flavors, the high quality, nice packaging and attention to details are pros. And so is the delivery, always on time and sometimes even shorter than expected. I will keep being a happy customer for sure!

- Ana G.
San Francisco, CA
Ready to order?